Exhibition
Membranes Out Of Order responds to the current ethical and cultural challenges posed by the interplay of biotechnology and ecology. It focuses on the thought-provoking practice of artists Margherita Pevere (IT/DE), Theresa Schubert (DE) and Karolina Żyniewicz (PL/DE) and involves international guests. The artists themselves developed an innovative exhibition concept based on their artworks and research materials that will be presented to the audience for the first time.
The 4-weeks exhibition at Kunstquartier Bethanien is accompanied by a program of talks and curatorial guided tours, thus involving a broad and diverse public. A distinctive feature of the project is a special focus on accessibility for visually impaired people, an aspect otherwise underexplored with regard to bioart practice especially in independent art contexts.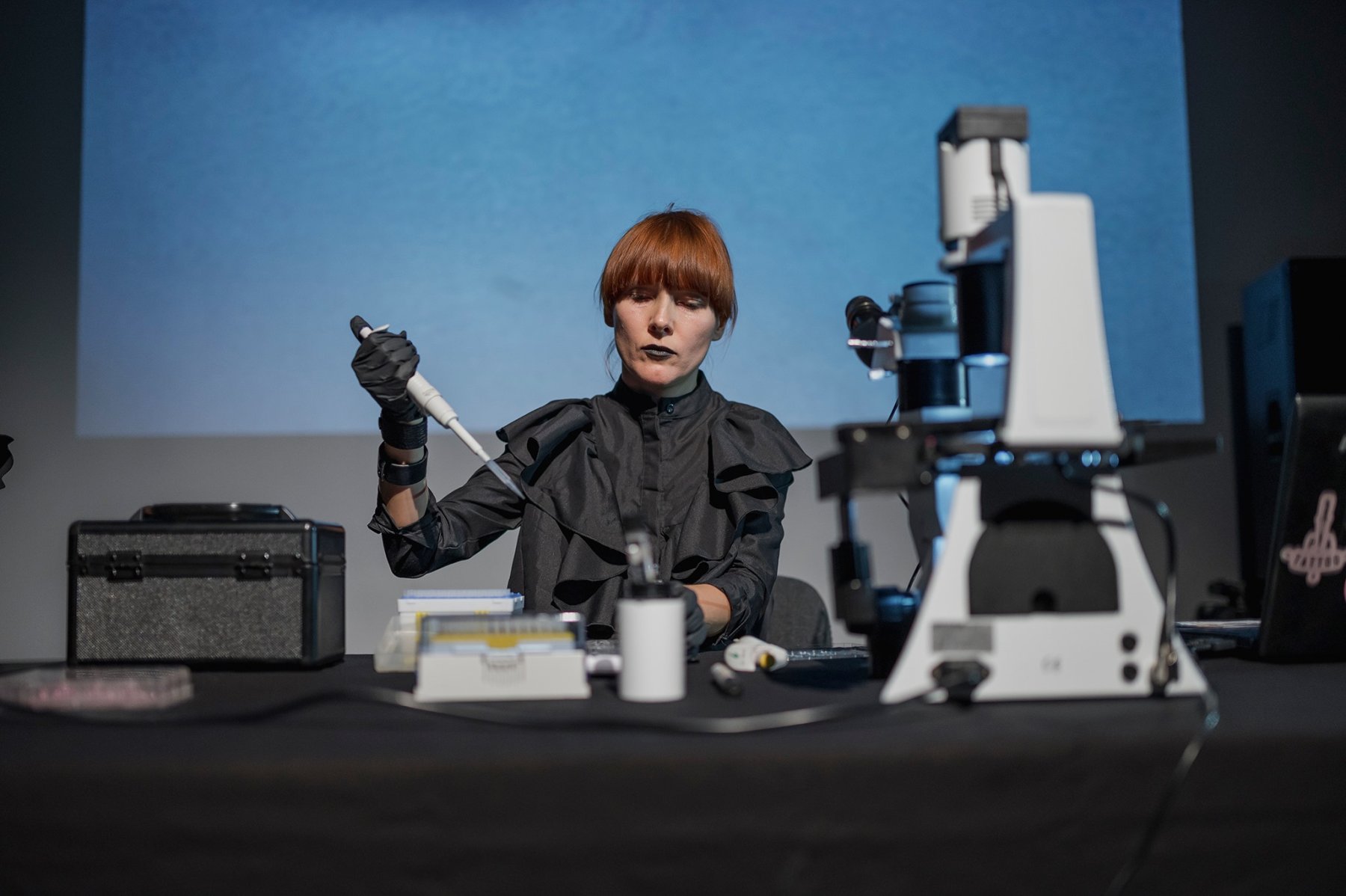 The works inside Membranes Out of Order present strong positions on life and its socio-political, biological and cognitive dimensions by (mis-)using biotechnologies hence framed under the umbrella-term of "bioart". Bioart has a strong connection to media art, on the one hand, as this has always been a research-based practice closely following new technological developments, which also included the life sciences. Moreover, bioart retains a strong link to performance art and body-art. When combining biology and technology in a creative and/or critical way, bioart offers us "new models and metaphors of being" (Ascott 1997). The idea of the exhibition Membranes Out of Order is to show the connection between three influential actors of the Berliner growing bioart scene.
Membranes
The project's working title refers to "membranes" both as a material as well as a metaphor. In their practice, the artists have confronted themself with biological membranes, which are the porous thin layer that makes up the boundary of a cell but also allows exchange between the inside and the outside. Conceptually, this idea is key for their work as they see cells, bodies and all members of the world as relational entities in constant exchange. At the same time, the hands-on experimental approach of the three artists reminds how embracing biological processes for art means embracing the "out of order": uncertainty, failure, surprise and disobedience of the living, which finally is what it means to be alive.
Membranes Out of Order presents selected materials from the artists' production, most of which exhibited for the first time. The selection will focus on the usually unseen materials of bioart works. Photographs, drawings, journals, objects are, in most cases, not included in exhibitions of the realized works, yet they give important insights into the artistic production and present the audience with the thought-provoking aesthetic and ethical instances of bioart.
On curating bioart
Bioart is a relatively young art field that deals with the manipulation of organic matter and biotechnology, such as cell and bacterial cultures, relationship between different living organisms, and ecological themes. Bioart is mostly developed either in institutional biological laboratories or in DIY and citizen science spaces. Moving from the  laboratory to an exhibition space involves a crucial translation. Bioart practice is a curatorial practice at the same time, because it involves living organisms and  living matter. Creation means, in this case, understanding, ordering, and manipulating biological processes. Yet, living matter is never fully predictable. That is why the core of bioart practice is to embrace what non/human entities do, including organisms and technological devices.  In the creation of bioart pieces, the artist often collects artifacts such as discarded materials and experiments along with sketches and objects prototypes. Within such a framework, bioart practice often involves a curatorial gesture to decide what should get a voice to talk to the exhibition audience. Robert Mitchell (2010) pointed out that bioart is a "child'' of two older artistic genres: performance and ready made. Following Duchamp, only the artist's decision and the context transform a regular object into an exhibit and a piece of art. That is why we decided to transform our working materials into exhibits and showcase the stories they tell. Our idea is to present this constant process of curating which is integral in artistic research production. In Membranes Out of Order we act as curators to each other.
Relevance of bioart in contemporary society
Focused on the exploration and manipulation of living entities by means of biotechnology, bioart is an artistic vocabulary that has gained critical relevance in our current times marked by surging ecological disruption and, more recently, disruptive pandemic. By doing so, bioart works offer critical yet accessible entry points to complex ethical, political, and educational issues that surround biotechnological developments with critical and accessible entry points.
In the last year, following the recent pandemic, society at large has been confronted with  specialised scientific and medical knowledge that used to be an exclusive concern of science. The complexities arising from the interplay of biological entities, their activities, society, politics, economics and private life never had such space in the public discourse.
To give a simple example, the visualization of otherwise invisible entities like a virus relies on advanced optical media and image-producing methods of "a priori non-image producing biotechnological processes" (Hauser 2006). Recently, the lives of many  have been flooded with daily imagery from laboratories on the news, 3D simulations of cells, rapid tests for home usage. Similarly, the now common technique of washing hands to prevent the spread of contagion is a basic gesture in biomedical facilities – and in bioart practice.
The pervasiveness of such discourses urgently calls for a democratic and sustainable way of addressing these topics – which bioart can provide.
The idea of the exhibition is to activate these agents which are present  in our practice, but mainly un-exhibited. We would also like to think about the selection mechanisms: why were they not presented before? Why  do they often remain in the background? What story are they able to say?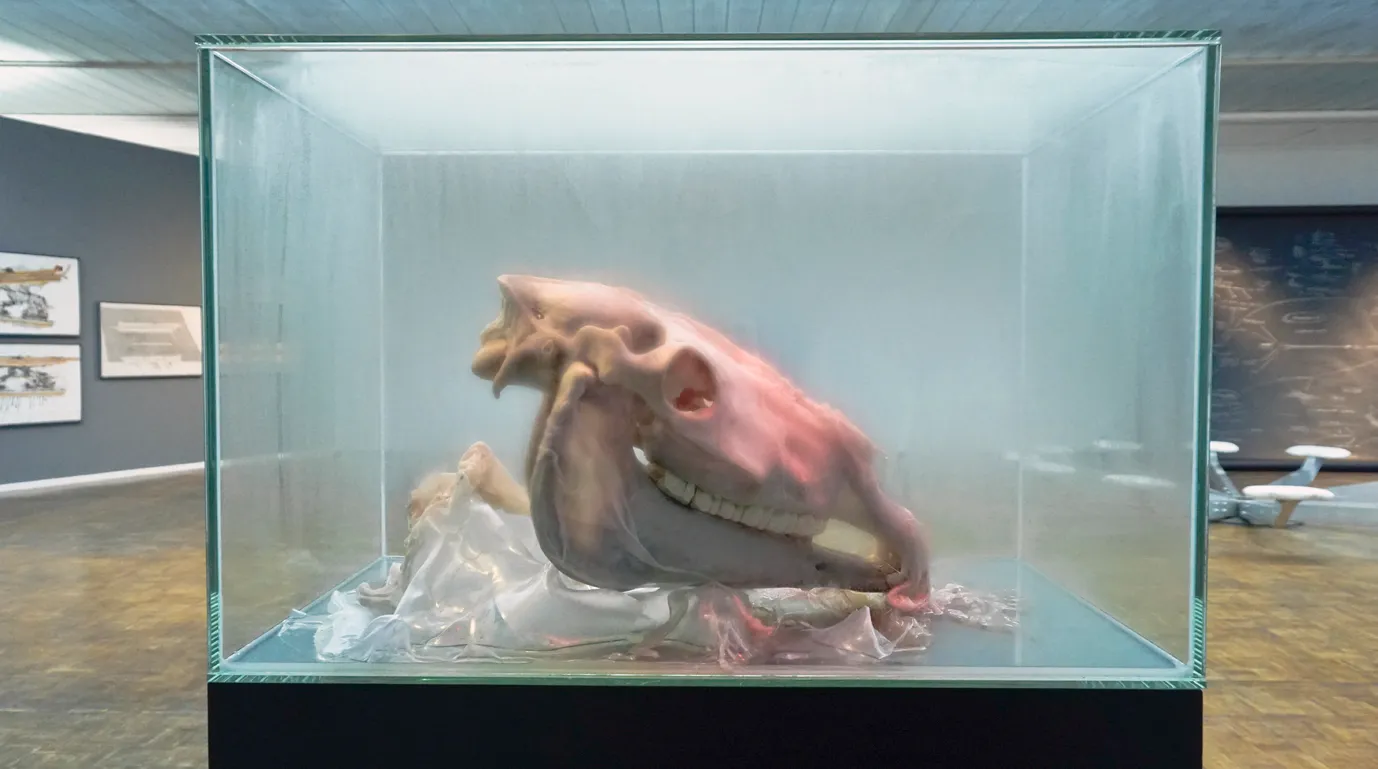 Artist statements
Margherita Pevere
margheritapevere.com | frontevacuo.com
Margherita Peveres complex of works moves at the interface between body and environment. Thus, with Wombs (2018-2021), she addresses hormonal contraception through her intermedial practice of bioart, performance, and photography. Starting with reproductive organs, frameworks between sexuality and gender are explored. The decision to work with bacteria and snails opens up approaches beyond a binary gender order.
Margherita Pevere is pursuing a PhD in artistic research and queer studies at Aalto University in Helsinki. Since 2008 her art has been shown internationally in group as well as solo exhibitions, including Kiasma Museum in Helsinki, Kunsthalle Rostock, Fields Institute for Research in Mathematical Sciences in Toronto. She has received numerous awards and grants for her work. She is a co-founder of the art group Fronte Vacuo.
Theresa Schubert
In an aesthetic between alchemy and futurism, Theresa Schubert's works question anthropocentrism and its limits. For the project mEat me (2020), she produced meat from her own cells, which she subsequently ate herself, in order to performatively question our treatment of meat, factory farming, but also our own bodies as a resource.
Dr. Theresa Schubert received her PhD in media art from Bauhaus University in Weimar, Germany. Her work is shown internationally, including at KW Institute for Contemporary Art, Istanbul Biennial, European Media Art Festival, and Moscow Museum of Modern Art. She has received several awards for her work, including mEat me was honored with the Award of Excellence at the Japan Media Arts Festival 2022.
Karolina Żyniewicz
Karolina Żyniewicz understands art as situated knowledge production. For safe suicide (2016-2019) she deals with life and death as self-transformation. She grew her own cells, then killed them. Images of the dying cells through fluorescence and confocal microscopy were printed on porcelain plates in the form of traditional Polish funerary images.
Karolina Żyniewicz is a PhD student in the Nature-Culture international PhD program at the Faculty of Liberal Arts, University of Warsaw, and previously graduated from the Academy of Arts in Lodz. Her research-based experimental art is shown internationally solo and in group exhibitions.
References
Roy Ascott: »Introduction to Consciousness Reframed«, in: Leonardo Electronic Almanac vol.5 no.6 (1997), p. 4
Jens Hauser: »Biotechnology as Mediality: Strategies of organic media art«, in: Performance Research (2006), pp. 129-136, p. 129
Robert Mitchell, (2010), Bioart and the vitality of media, University of Washington Press, London/Seattle